Ian Dovaston STANT [1932 to 2018]

STANT, Ian Dovaston. Formerly of Coventry, Kenilworth and Stratford.
Dearly loved husband of his late wife, Mary [nee Reed]. Married 1954.
Much loved father of Ruth and Rachel.
Beloved grandfather of Ross and Lisa, James and Maria.
Great grandfather of Anna and Lily, Isla and Fern.
A dear father-in-law to William and Philip.
Special friend to Justin, to Heather, and to many at Entwistle-Thorpe and Jonathan Smith's Studio, Coventry.
Passed away at Warwick Hospital, on 18th April 2018, aged 85.
Ian's desire was to be reunited and laid to rest with Mary, at Kenilworth.
Private Funeral not attended by Ian and Mary's family members, or Ian's friends.
Ian wished any Donations go to the Dog's Trust of London, and the British Heart Foundation.
Safe in the "Arms of Mary".
---
So now when I feel lonely
Still looking for the one and only
That's when I wish I were lying in the "Arms of Mary"
---
Ian was born in Coventry, grew up in Coventry and Kenilworth, attending King Henry VIII Grammar School. He was also a chorist at Coventry Cathedral. When WWI broke out, Ian was packed off to stay with a maternal cousin family at Paignton, Devon. After the war, Ian's parents divorced. Ian continued to live with his father, Harold, at Kenilworth.
Ian married Mary REED in 1954, lived and worked at Mary's family Bakery in Bedworth for a time, and then settled down in Coventry after their first daughter, Ruth, was born, working as a Graphic Designer at Jonathan Smith's Studio. Ian spent two year's military service in the RAF as a Cartographer. Ian and Mary then had a second daughter, Rachel. In the 1970's, Ian changed occupation, working until retirement as shop Manager at Entwistle-Thorpe Graphics, Earlsdon, Coventry.
Later in the 1970's, Ian and Mary moved to Kenilworth, where Ian spent a lot of his spare time gardening, Ian and Mary enjoyed holidays in Devon.
After Mary's death, and retirement, Ian settled in Stratford-upon-Avon, where he had bouts of ill-health, and eventually died in 2018.
---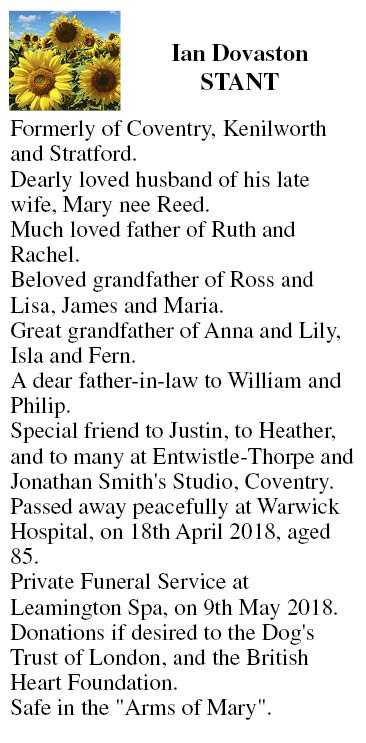 ---
---
please bookmark this website address: www.hartleyfamily.org.uk
e-mail enquiries to: enquiries@hartleyfamily.org.uk
---
---